John Mudge
(1743-1825)
There are several ancestors names John Mudge as well as other men named John Mudge who were contemporaries of our ancestors. I am still working out some of the details concerning the individuals; especially concerning military service during the American Revolutionary War.
Parents

Spouse

---

Phebe Harris

Children


Hannah Mudge
Martin Mudge
John Mudge
Lydia Mudge
Mary Mudge
William Mudge

---

None
Information about Individual
John Mudge was born in Malden, Massachusetts on 3 December 1743. In 1765, he married Hannah Hutchinson. Four years later, in 1769 they moved to Fitchburg, Massachusetts. In Fitchburg, John served as a fire warden.
John served as a soldier in the Revolutionary War. He enlisted on 26 June 1777 and joined Colonel J. Titcomb's regiment in Providence, Rhode Island. Some time after 1 January 1778, he served in Capt. Benjamin Edgell's Company, John Jacob's Regiment. At some point, he was also in Captain Joseph Miller's company. Although he did not enlist in the army until 1777, John's "name appears on the Ticonderoga rolls among those who served at the battle of Concord and other battles." The Battle of Concord took place on 19 April 1775.
In 1779, he moved to Saltash, Vermont. The town was later re-named Plymouth. He was one of the early settlers in the town and his son was the first white child born in the town and, as a result, was given 100 acres of land.
Life on the frontier was difficult. As Alfred Mudge reports,
Mr. Cephas Moore, for many years town clerk of Plymouth, informed the writer that John Mudge told him that when he first settled there, as he had no hay or grain to keep a horse, he was obliged to " back his grist to mill," a distance of ten miles, through the woods, guided by marked trees. Taking two bags of two bushels each, he would take one and carry it forward till fatigued, put it down, and return for the other, resting himself by the walk back, then shoulder the second bag and carry it forward past the first, and so continue to do until both were safe in the mill. "Waiting for them to be ground, he would take them back in the same manner. Black salts, or potash, was a staple commodity of that day; and, in its manufacture, a large iron kettle was necessary to boil down the ashes. Tins kettle he was obliged to carry fifteen miles into his settlement, on his shoulders, by letting the rim rest upon his forehead. Such were the toils of oui' early settlers.
On 9 September 1779, John "bought one-half of Sheal Smith's right in town of Ludlow, next adjoining Plymouth." Then, on November 7 of the same year, ""He bought for £300 the right of Enos Stearns, one of the sixty four proprietors named in the charter of that town." Over the years we have records of several other land deals. On 22 September 1787, John deeded 80 acres of land to his daughters Hannah and Mary. On 9 June 1788, he sold land to his son-in-law Paul Sawyer, husband to his daughter Hannah. Then, on 26 April 1791, he sold 120 acres of land to his brother Ezra Mudge.
One interesting point is that in 1782 the town of Fitzburg, Massachusetts abated his taxes. This implies that he still had business or personal ties to Fitzburg after he moved to Plymouth.
John's wife Hannah died on 26 March 1808. Some time after that, he married Phebe Harris.
John died in Plymouth, Vermont during November 1825.
Documents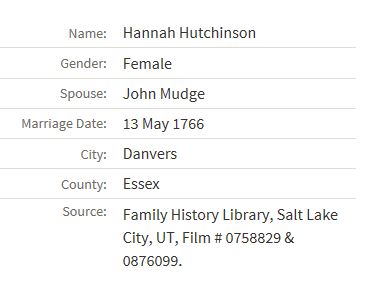 Marriage record for Hannah Hutchinson and John Mudge.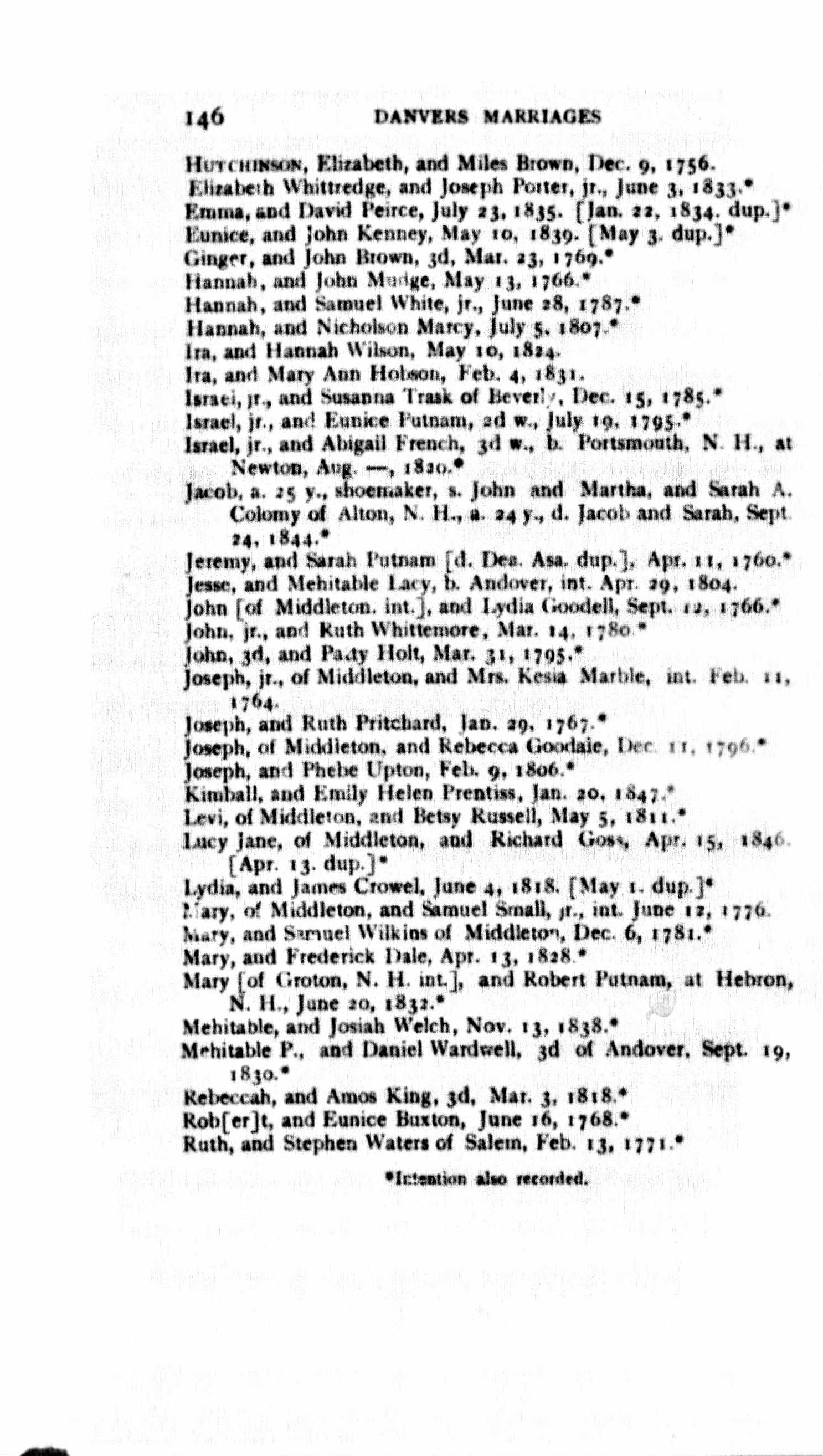 Marriage record for Hannah Hutchinson and John Mudge.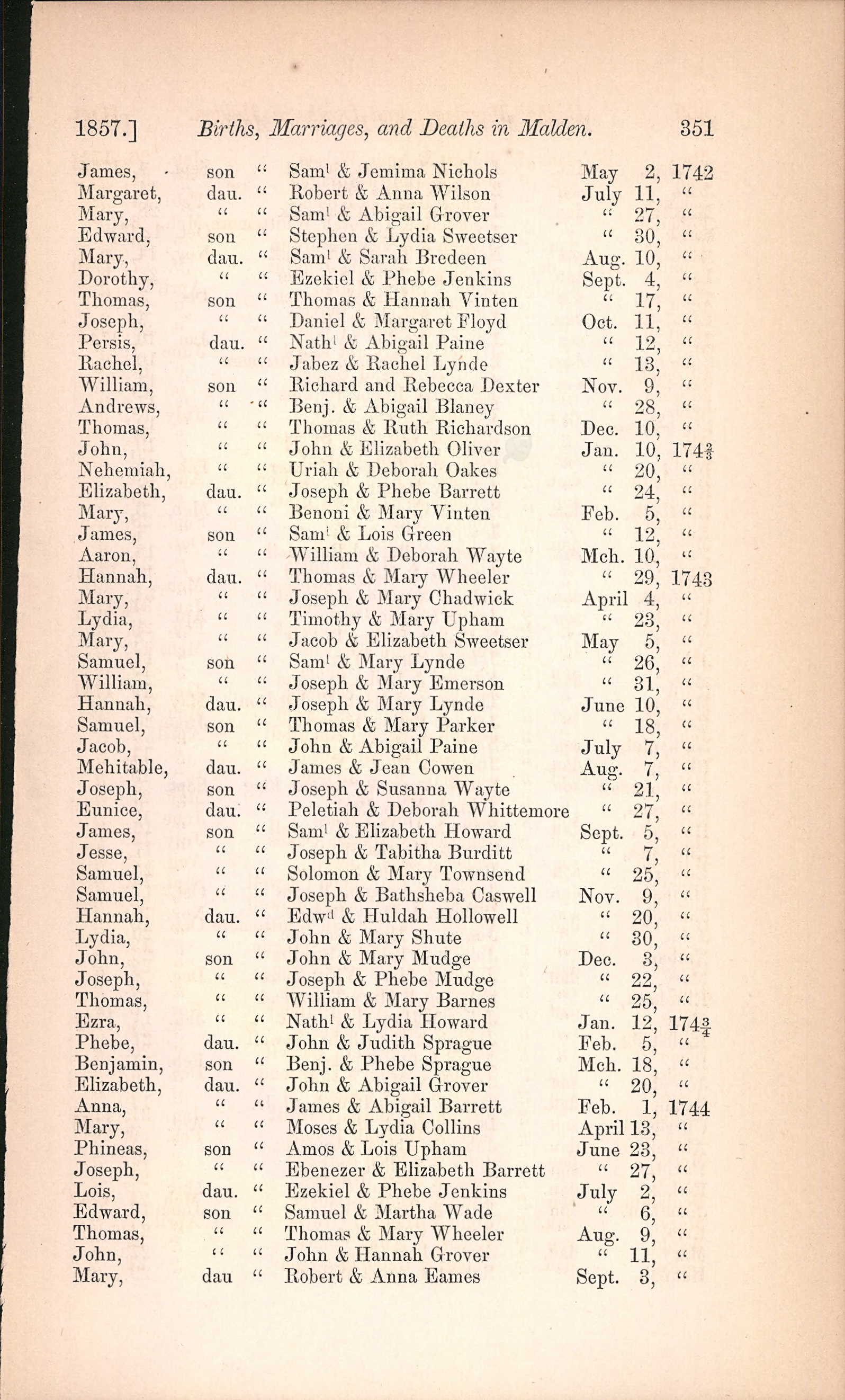 Birth record for John Mudge.

Military record for John Mudge.
Library
Avery, Clara A. The Averell-Averill-Avery Family: A Record of the Descendants of William and Abigail Averell of Ispswich, Mass. [Cleveland, OH: Evangelical Publishing House], 1914. p. 428.

Garfield, James F.D. "Fitchburg Soldiers of the Revolution." Proceedings of the Fitchburg Historical Society and Papers Related to the History of the Town Read by Some of Its Members. Volume 4. Fitchburg, MA: Sentinel Publishing Company, 1908. 172-232. p. 202.

Hurd, D. Hamilton. History of Essex County, Massachusetts, with Biographical Sketches of Many of Its Pioneers and Prominent Men. Volume 1. Philadelphia: J. Lewis and Company, 1888.

Mudge, Alfred. Memorials: Being a Genealogical, Biographical, and Historical Account of the Name Mudge in America, from 1638 to 1868.. Boston: Alfred Mudge and Son, 1868.

Mudge, Florence. John Mudge and Hannah Hutchinson, First Settlers of Plymouth, Vt. Danvers, MA: Danvers Historical Society, 1930.

Sanderson, Howard Kendall. Lynn in the Revolution. Vol. 2. Boston: W.B. Clarke Company, 1909.