Rachel Olive Wilcox
(1909-1990)
If you believe what is written in the Saxon Chronicles, Rachel Olive Wilcox is the 50th great granddaughter of Woden and Frejya of Norse Mythology.
Information about Individual
Rachel Liberacki was born on 18 January 1909 in Caro, Michigan. At the time, her family was living in Indianfields, Michigan.
By 1920, Rachel had two sisters and the family had moved to Caro, Michigan. She was able to read, write, and speak English and had attended school sometime since 1 September 1919 and the time the census was conducted.
In 1930, she was still living at home and was working as a teacher in a "rural school." In addition to her immediate family, relatives Georgia Gaut and her son Lewis Wilcox1 2 and Rachel's first cousin Paul N. Wilcox3 were also living in the home. Furthermore, the household included lodger Peter Montney and servant Alma Smith.
Rachel married Alex Liberacki on 17 June 1931 in Caro, Michigan. One of the traditions for the couple was to celebrate Alex's brother John Liberacki's birthday each January 27. Rachel's daughter Judy commented that it always seemed odd that her parents would celebrate John's birthday--especially because they did not take John with them. It was not until they were adults that Rachel and Alex's children learned that the couple had eloped in South Bend, Indiana on 27 January 1931. At the time of their marriage, Rachel was living in Pigeon, Michigan and Alex was living in Kalamazoo, Michigan.
At the time that Rachel eloped with Alex, a woman of her social status was not supposed to marry an immigrant and certainly not a "Polack." Worse still, Alex was a Catholic. Rachel converted to Catholicism and remained active in the church until her death.
In addition to working as a teacher, Rachel assisted her husband with magic from 1931 until his death in 1959. Between 1947 and 1951, the Liberacki family raised raspberries.
On the 1 August 1958, Rachel earned her Bachelor of Arts degree from Central Michigan University. On 27 July 1962, she was awarded her Masters of Arts; also from Central University. On the 30 August 1965, she was approved as "teacher of the mentally handicapped." She also had a degree from Western Michigan University.
Rachel was involved in community service. Her activities included work with the American Legion Auxiliary, the Tuscola [Michigan] Retired Teachers Association, a Girl Scout leader, a 4-H leader, the Michigan Retired Teacher's Association, and the Federated Women's Club4. In 1956, she was President of the Thumb Area Deanery of Catholic Women and presided over their meeting on March 28.
She also enjoyed bowling and collected owls.
On 19 September 1988, Dr. J. Joseph installed a pacemaker (Serial number QE210333OH) for Rachel. A year and a half later, on 10 February 1990, Rachel died from a cerebral vascular accident, arterio sclerotic heart disease, and congestive heart failure.
Rachel was buried in Sacred Heart Cemetery in Caro, Michigan on 13 February 1988. The Reverend Stanley Surman officiated. The family suggested that memorial donations could be made to the American Heart Association.
1Georgia Gaut is listed as a lodger. However, I know that there is a family relationship, but remain unclear on the exact relationship between Louis and Rachel.
2Although the census record uses "Louis," I maintain the family tradition of spelling his name as "Lewis."
3The census record is ambiguous. As listed, it appears that Paul is Georgia's son. However, both are 17 years old. I do know that Paul is not Asa and Oma's son. This Paul, is most likely the son of Harry Virgil Wilcox and Sarah "Sadie" Wright Wilcox.
4The Federated Women's Club was listed in Rachel's obituary, but I do not know the purpose of the group.
Photo Gallery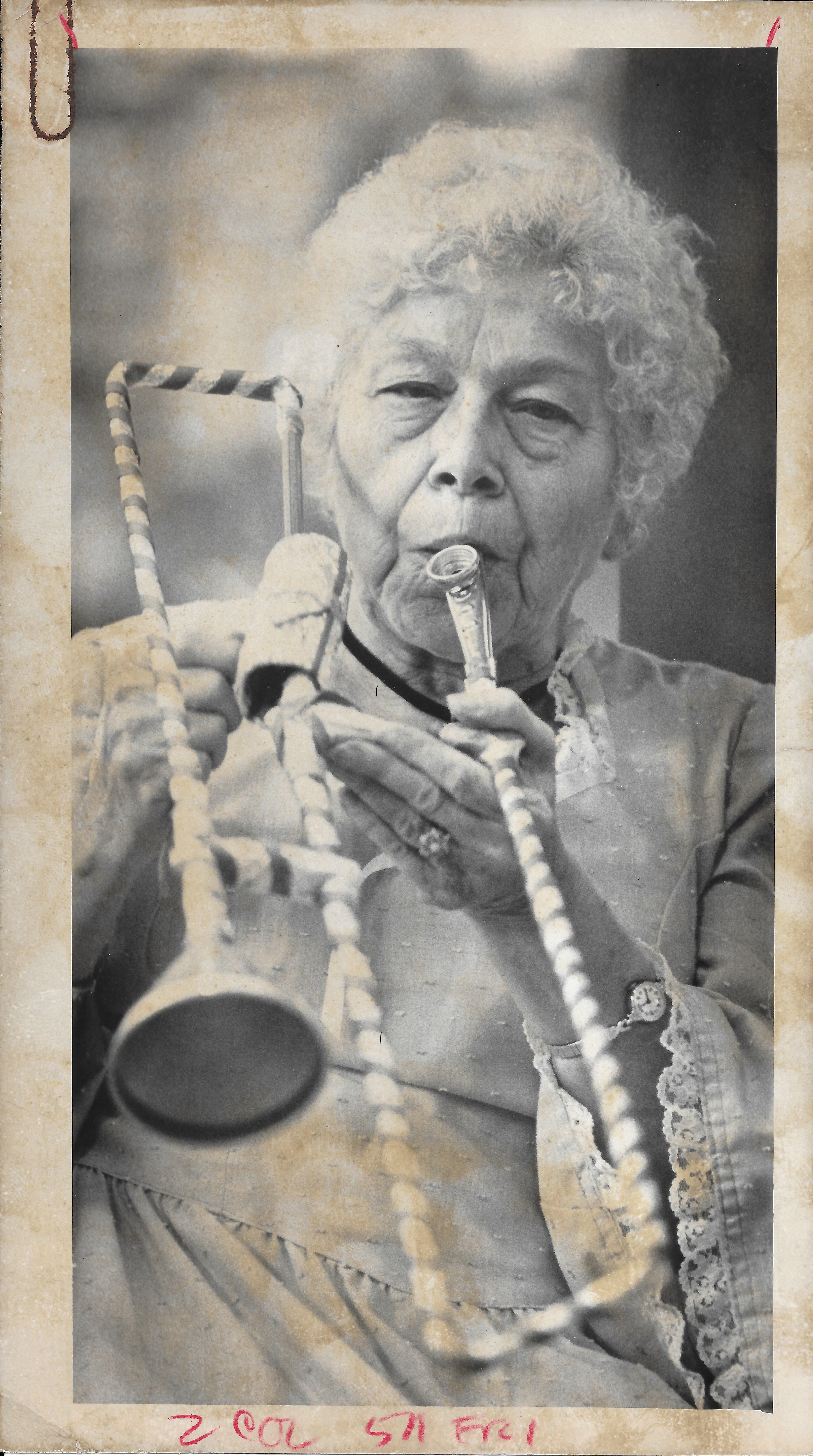 Rachel Wilcox playing a home made musical instrument using a kazoo as a mouth piece. She was part of a local band where people played other types of homemade instruments. Because of the notes on the bottom of the photograph, it appears that it was published in a newspaper; most likely the Unionville Creasant.
c. 1970s
Julia Liberacki, Rachel Wilcox, Andrew Liberacki. It appears that Rachel is organizing china while her two children watch.
c. 1942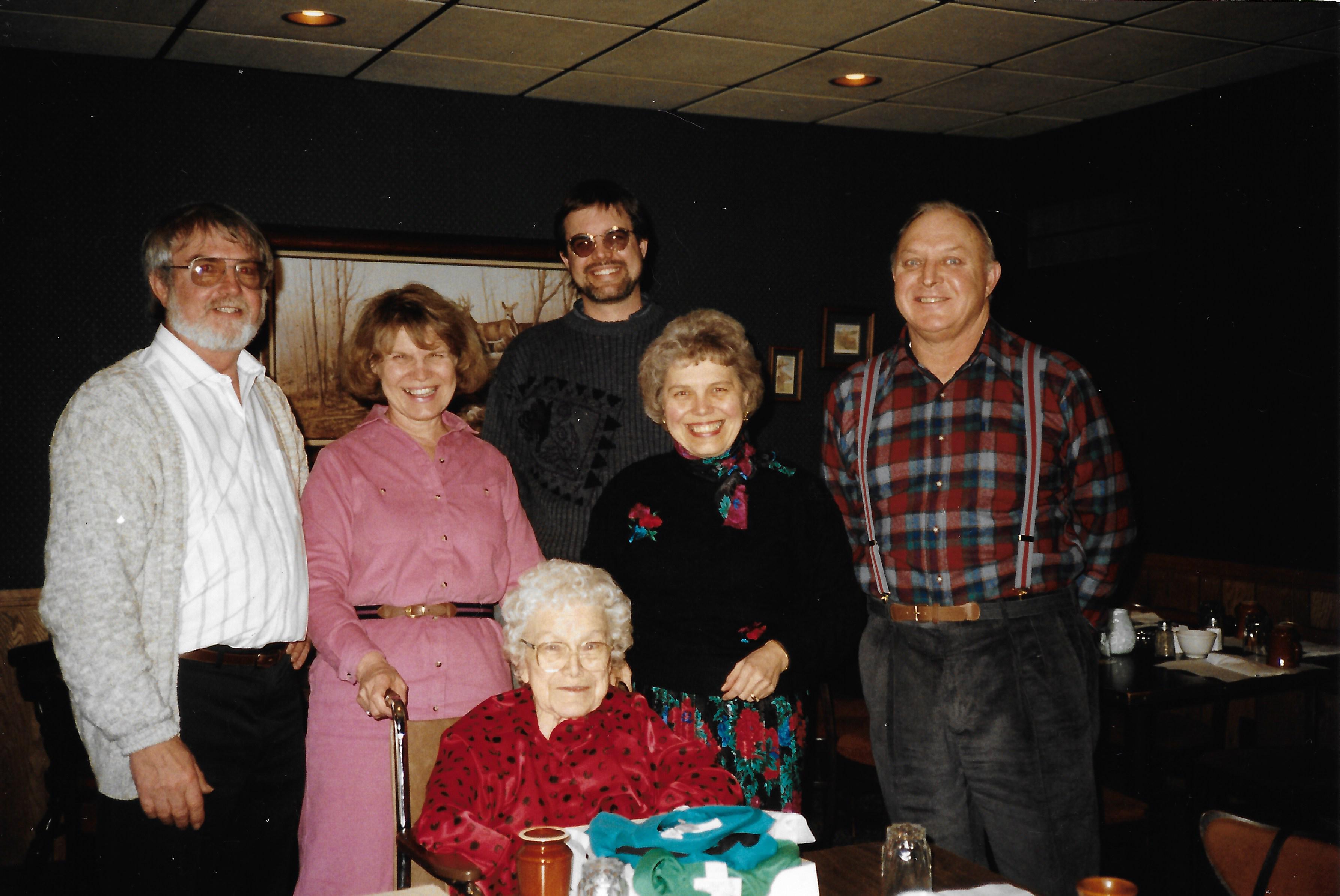 Lorain Berg, Julia Liberacki, Steven Lorain Berg, Rita Liberacki, and John Luks help Rachel Wilcox (seated) enjoy her 82nd birthday.
January 18, 1990
For More photographs
Documents
Newspaper article about the Liberacki children earning college money by raising raspberries.
August 3, 1951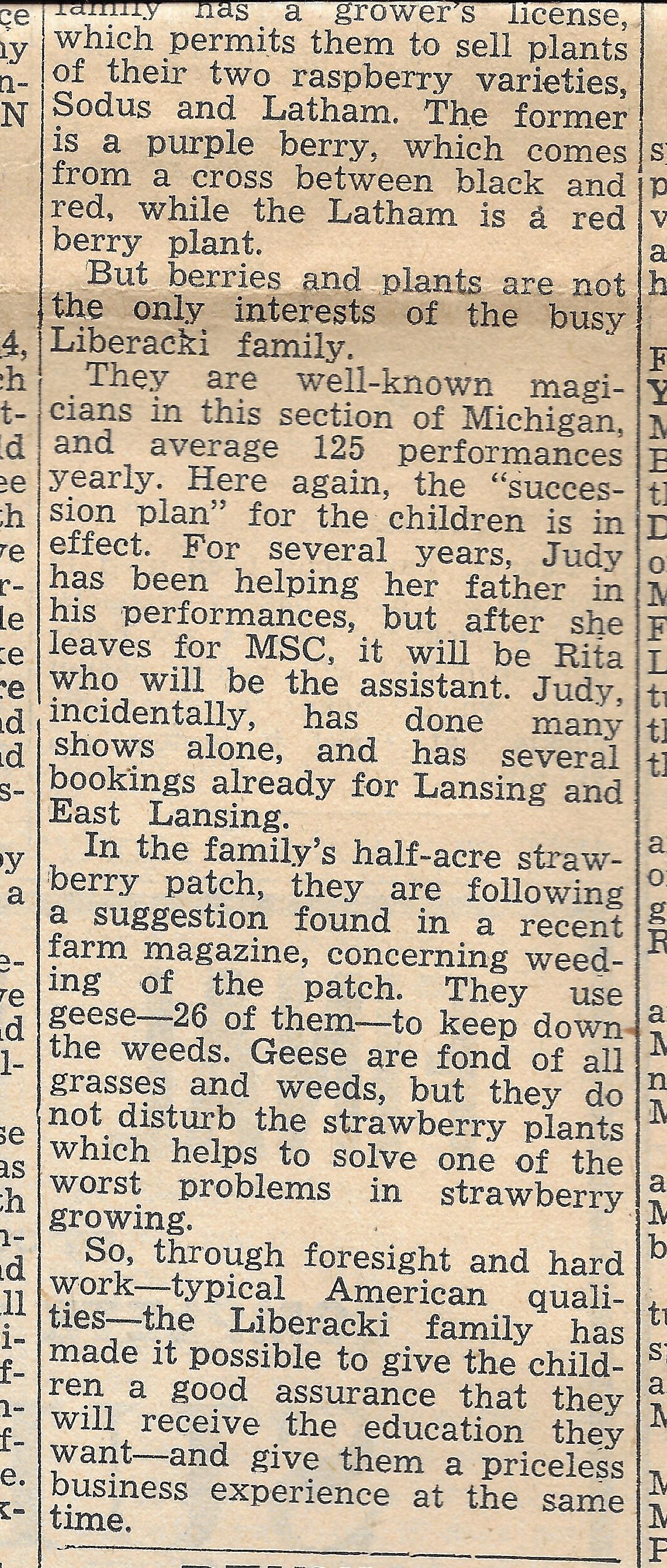 Continued: Newspaper article about the Liberacki children earning college money by raising raspberries.
August 3, 1951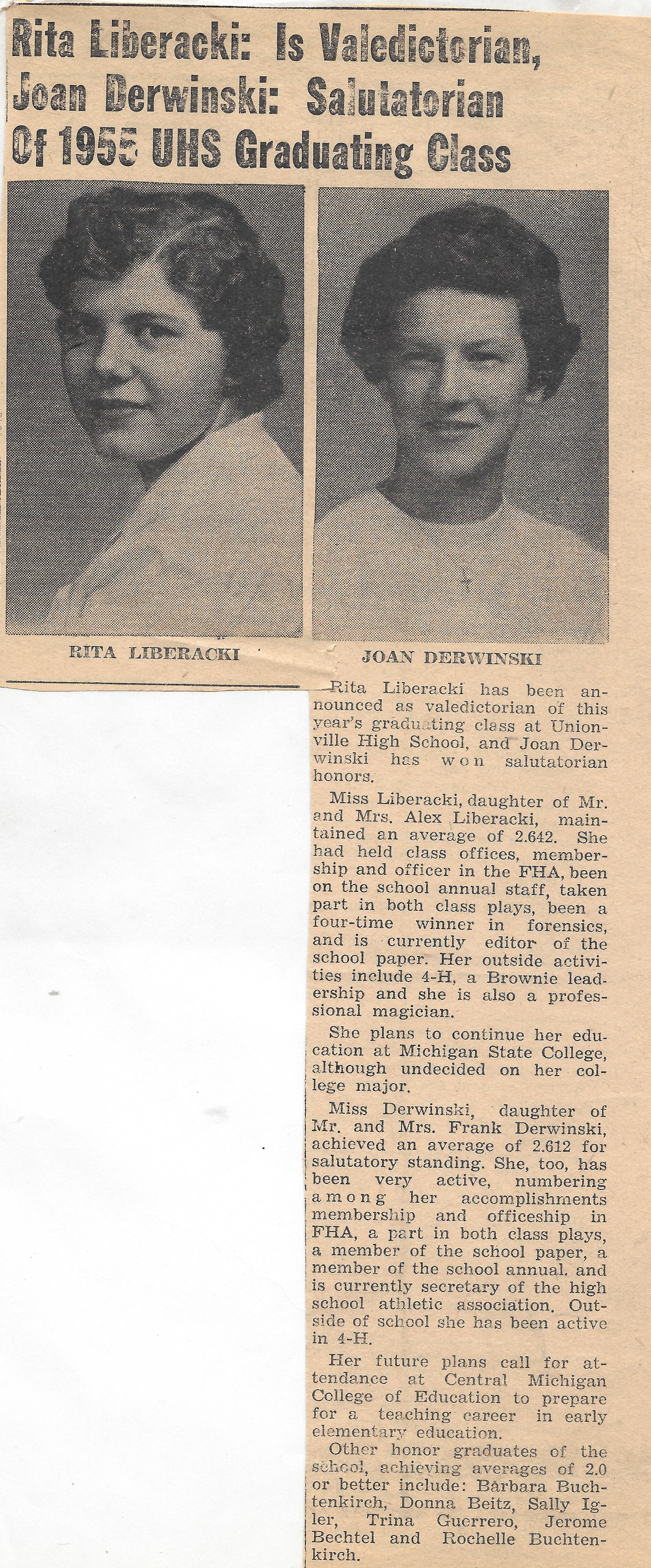 Newspaper article about Rita Liberacki being valedictorian of her high school graduating class in which Rachel Wilcox and Alexander Liberacki are mentioned.
1955
For More Documents
Letters
Here is an index of letters written by or to Rachel Liberacki.
Census Records
Videos