Jane Walker
(1783-1853)
Parents

Spouse

Children

Lucian Hyde
Volney Hyde
Eliphalet Hyde
Angeline Hyde
Zattu Hyde
Ruth King Hyde
Abagail Adelia Hyde
Edward Walker Hyde
Information about Individual
Jane Walker was born in Chenango, New York on 11 June 1783. She married Eliphalet Hyde in Burlington, New York on 9 February 1804.
In 1813, the family relocated to Onandaga, New York. Then in 1842, the family moved to Hastings, Michigan.
After her husband died in January, she resied in Woodland, Michigan in the home of Josiah and Eunice Lowis. By 1853, she had moved to Castleton, Michigan.
Jane died 15 August 1853.
Photo Gallery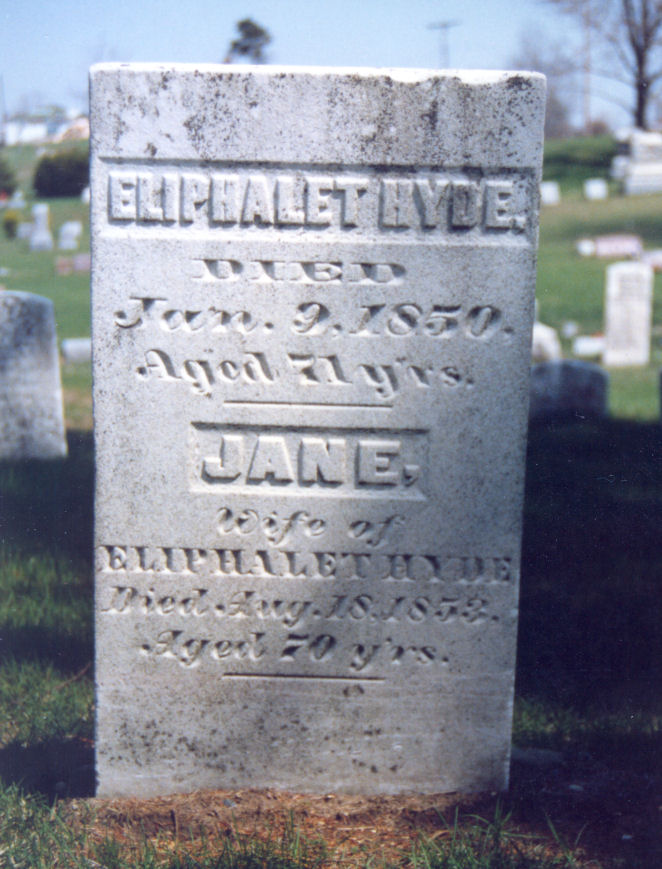 Gravestone for Eliphalet Hyde and Jane Walker. Photo Credit: Jerry Zaikowski.
Documents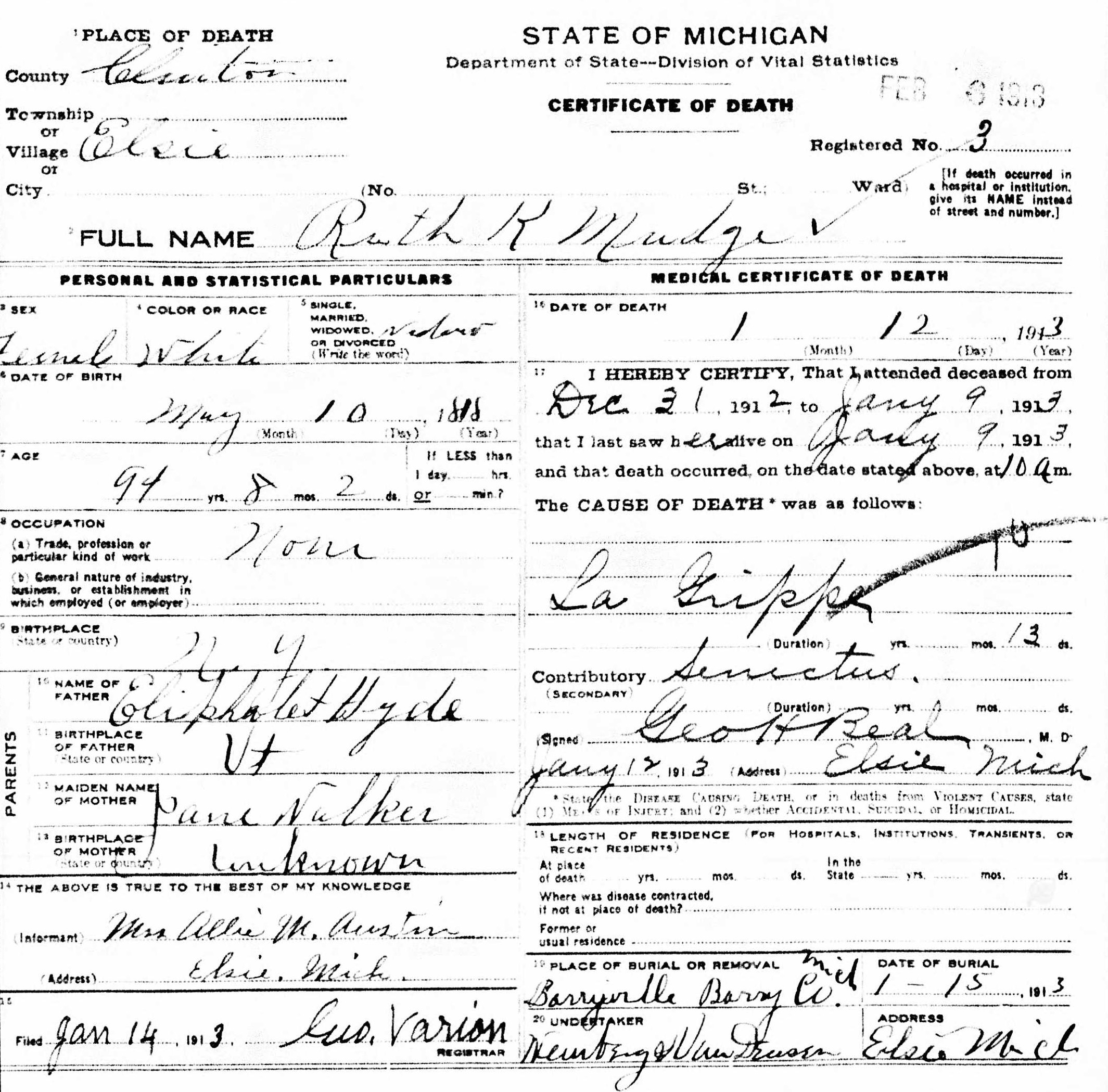 Death certificate for Ruth King Hyde.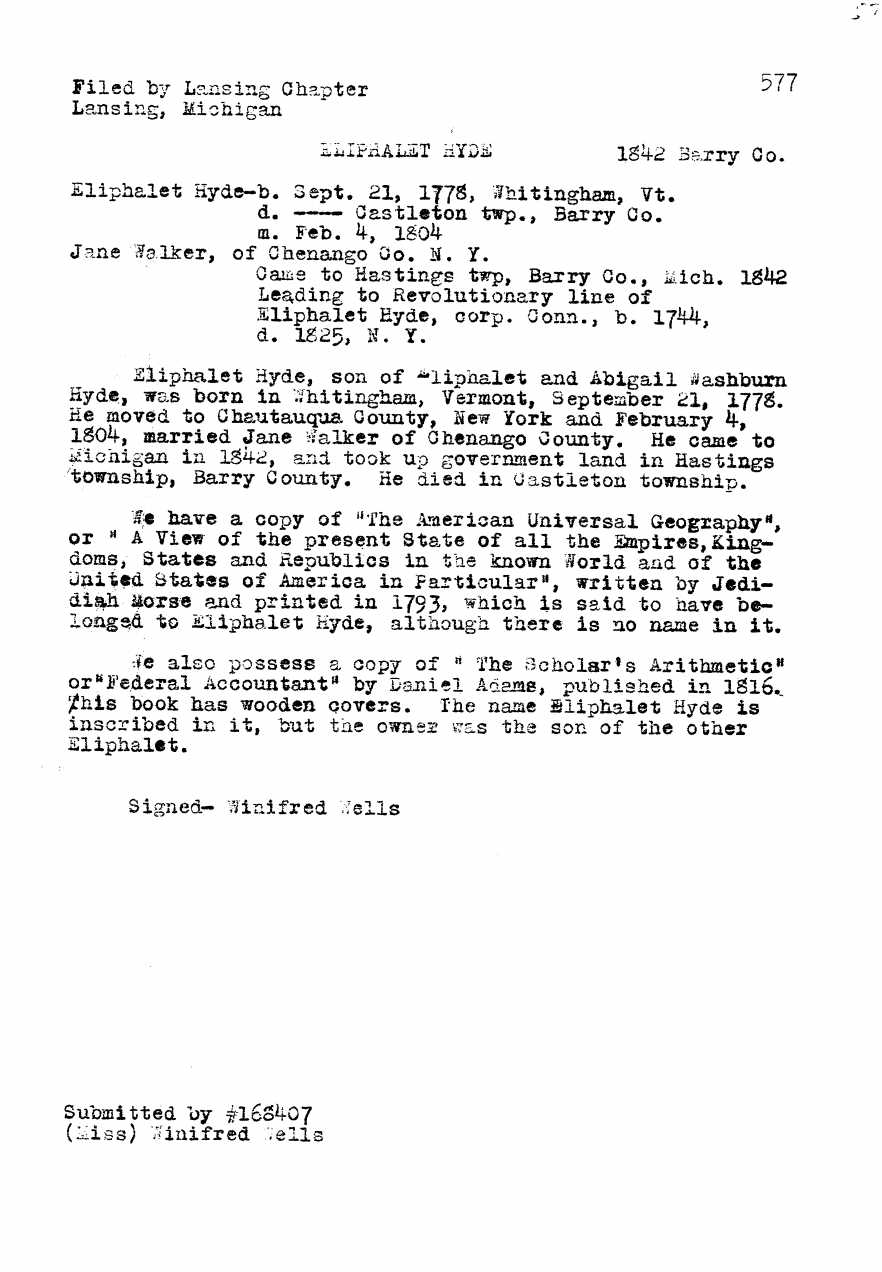 Biographical sketch of Eliphalet Hyde, Jr. from Michigan pioneer experiences, 1710-1880: With Genealogical Data and Anecdotes. np: The Society, 1933. p. 577.
Census Records
Library
Walworth, Reuben H. Hyde Genealogy; or the Descents, the the Female as well as in the Male Lines, from William Hyde, of Norwich, with Their Places of Residence, and Dates of Birth, Marriages, & c. and Other Particulars of Them and Their Families and Ancestry. Vol. 1. Albany, NY: J. Musell, 1864. p. 280.