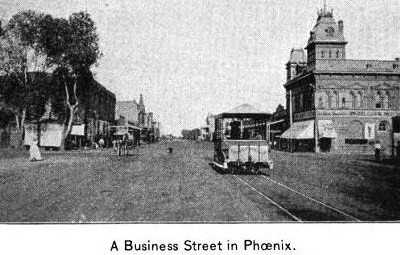 On the 22 November 1896, the Honorable Whitelaw Reid published an article in the New York Tribune touting the benefits of Wintering in Arizona.

He began, "So many questions are asked about Arizona as a place for winter residence, and there appears to be such a dearth of precise information among many who are vitally interested, that it seems almost a public duty to set down a few facts of personal observation."3

About 100 years later, Lorain Berg and his wife Julia Liberacki Berg would buy a condo in Arizona to spend their winters.

Earnestine Theresia Ruediger
(1845-1896)
Earnestine Theresia Ruediger is the great grandfather of Ursula Danes Berg (1942-).
Earnestine Ruediger was born in Saxony on 1 January 1845. She married Moritz Uhlmann about 1866.
She emigrated from Germany in May 1874. Leaving from Hamburg on the Goethe1, with her husband and at least one of her children2, the family arrived in New York on May 26. Because her husband was naturalized in 1894, it seems likely that she would also have become naturalized. However, we have no record of her naturalization.
She settled with her family in Kochville, Michigan where the 1880 census listed her occupation as working at home.
Earnestine died in Saginaw, Michigan on 22 November 1896.