Lorenzo Edward Mudge
(1809-1882)
Parents

Spouse

---









---

Arminda Sandidge

Children

Royal Mudge
Justus Mudge
Cordelia Mudge
Sarah Mudge
Frances Minerva Mudge

---

Helen Amelia Mudge
Alice Mudge
Alice Ruth Mudge
Lorenzo Edward Mudge
Mina Mudge
Miriam Mudge
Weneva Mudge
Maria Mudge

---

None
Information about Individual
Lorenzo was born in Plymouth, Vermont on 26 December 1809. We do not know when he moved to Hartland, New York, but it seems likely that he was living there by 1834.1
On 12 March 1834, Lorenzo married Emiline Seely. In 1836, he obtained a 1/3 share of Ebenezer Seeley's 640 acres of land in section 32 in Barry County, Michigan. Then, on 23 September 1837, he and his family became the first individuals of European descent to live in Castleton, Michigan when they moved into a Wig Wam on property he had purchased on the southeast quarter of section 32 on the south line of the township. The History of Allegan and Barry Counties explains that "for eight months his family resided alone, his wife not seeing the face of a white woman during that period." (35)
Emiline Seely died on 15 December 1843. On 17 June 1844, Lorenzo married Ruth King Hyde.
By 1848, Lorenzo owned 160 acres in section 32. In 1850, His real estate was valued at $1,600.
In 1854, Lorenzo purchased 100 and 65/100 acres of land from the federal government and sold Isaiah Hendershott a farm located in Baltimore, Michigan.2
By 1860, the value of his real estate had increased to $6,000 and his personal estate was valued at $3,140. In 1870, his real estate was valued at $1,200 and his personal estate was valued at $4,500.
In 1870, Lorenzo's household consisted of he and his wife as well as their daughter Allie and their grandson Clark S. Mudge. Clark was the son of Justus Mudge and Maria Fry Mudge.3 Matthew Woods, a 23 year old servant, was also living in the home.
Lorenzo died in Nashville on 24 April 1882. He was buried in the Barryville Cemetery.
Taxes
We have some records of the taxes Lorenzo paid.
Religious Life
In July 1840, he was elected a leader in the first class of the Hastings Methodist Episcopal Church. By 1841 when the Reverend Daniel Bush preached there, the Mudge home was one of four regular places in the county where preaching took place. This could be a combination of Lorenzo Mudge's religious faith as well as the fact that the first road in the country passed by his farm.
On 6 November 1841, Lorenzo attended the first quarterly Conference for the Hastings mission. He was elected one of the church stewards. He would hold the position of steward from 1841-1846 and again in 1853. On 3 February 1844, he was elected to the Hastings Methodist Episcopal Church building committee. Lorenzo served as a trustee for the Hastings circuit from 1845 to 1846 and again in 1880. In 1857, he was elected as a district steward.
At least in 1844, Lorenzo was reading The Advent Review and Herald of the Sabbath.
At a meeting that took place on 20 December 1845, Lorenzo was appointed to the committee on missions. In 1852, he was appointed to the committee to oversee an addition to the parsonage.
On 2 December 1852, along with R.J. Grant and D.J. Robinson, Lorenzo "purchased lot 589 which included the old school building from the village school district in order to use it for a church." The cost to each man was $50.
As part of his religious obligations, Lorenzo was responsible for helping pay the salary of the circuit preachers who served the Methodist Episcopal Church. When, on 24 November 1849, the "Reverend F. B. Bangs was appointed presiding elder for the Kalamazoo district at a salary of $371. Lorenzo Mudge's class was responsible for $30 of the salary." On 12 October 1853 when the Reverend W. H. Perrine was appointed to the Hastings circuit, the Mudge class was responsible for $30 of the minister's $300 salary; a salary that included expenses. Then, when the Reverend Salmon Steele was appointed to the Hastings circuit on 3 November 1855, the Mudge class was apportioned $45 of the $478 salary.
On 7 February 1857, Lorenzo was appointed exhorter at the meeting and between 11-12 July the same year he was licensed as an exhorter.
Community Service
Lorenzo was interested in education. School was first taught in the Mudge District in 1842. In 1843, he was elected as a school inspector. Then, in 1845, he and four other men built the first schoolhouse in the township.
In addition to his commitment to education, Lorenzo served his community in other ways. In 1843, he was elected as the assistant asessor in Castleton. On 19 April 1846, he was elected as Barry county's first treasurer and in 1848 he was elected as Justice of the Peace. From 1850-1851, he served as the Castleton postmaster. In 1851, Lorenzo was elected as one of the two Directors of the Poor. From 1855-1856, he served as coroner. In 1858, he was again elected Justice of the Peace.
Lorenzo took an active role in the anti-slavery movement. On 21 October 1846, he chaired the convention that nominated anti-slavery candidates for the ballot.
On 12 January 1858, Lorenzo became the Vice-President representing Castleton for the Barry County Agricultural Society.
Toward the end of his life, Lorenzo became active in the Barry County Pioneer Association. Over the years, he held the following positions: First Vice President (1873, 1875, 1877, 1878), Second Vice-President (1876, 1879, 1880)
Occupation
Lorenzo was primarily a farmer.
In 1863, he was a founding partner in the Farmer's Mutual Fire Insurance Company of Barry and Eaton Counties.
1In his Memorials, Alfred Mudge places the move prior to 1836. However, in the Hyde Genealogy, Rueben H. Walworth lists the marriage of Lorenzo and Emiline Seely as having taken place in New York on 12 March 1834. Because there is no other New York connection, it seems likely that he was already living in Hartland buy 1834 and that he and Emiline married there.
2I am not sure when Lorenzo obtained the farm in Baltitmore.
3Justus had died of disease in 1864 when he was serving as a soldier in the Civil War. Maria survived until 1919.
Photo Gallery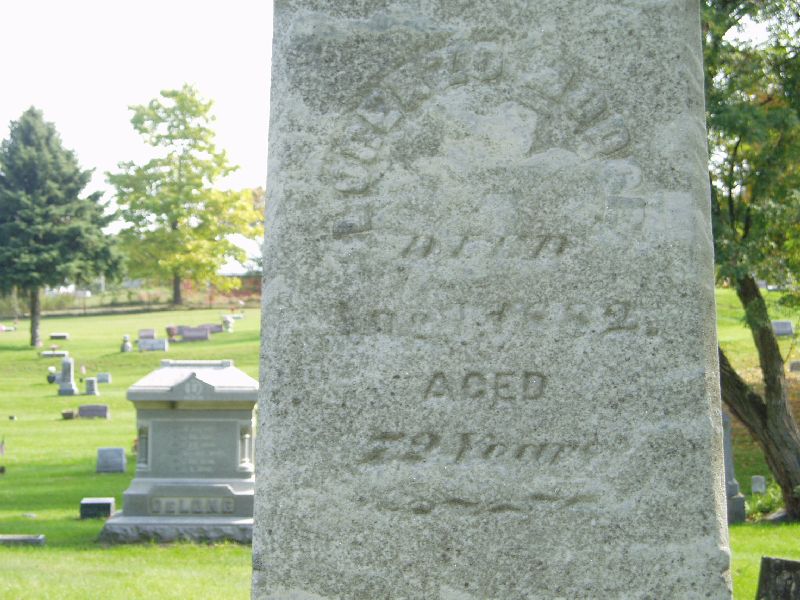 Gravestone for Lorenzo Mudge. Photograph uploaded to Find a Grave by Vicki Price Scott.
For More photographs
Documents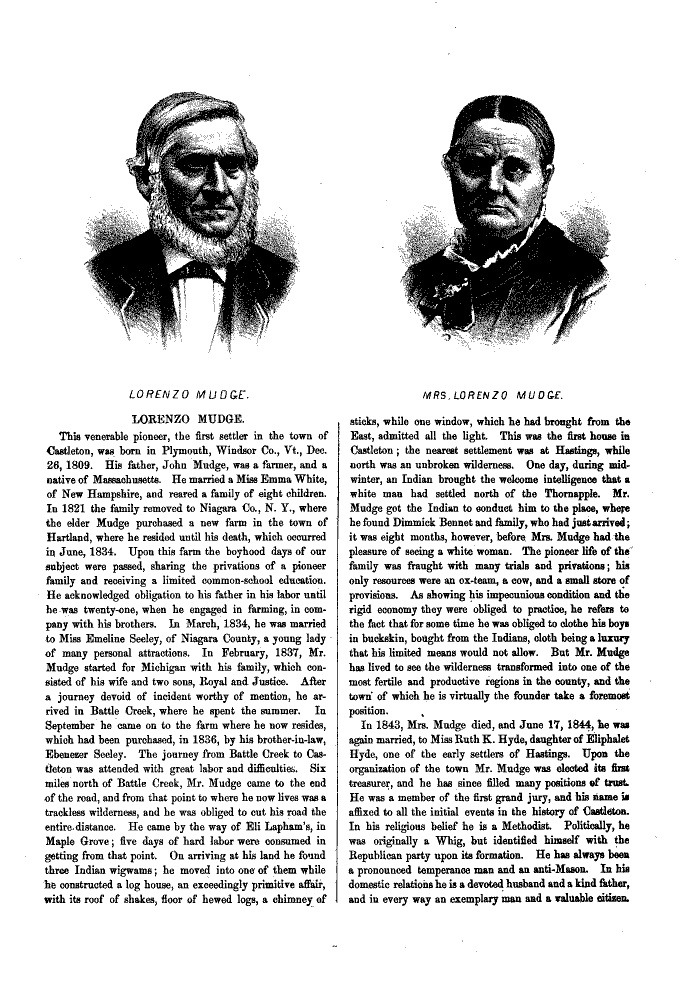 Biographical sketch of Lorenzo Mudge and Ruth Hyde published in Johnson, Crisfield. History of Allegan and Barry Counties, Michigan, with Illustrations and Biographical Sketches of their Prominent Men and Pioneers. Philadelphia: D.W. Ensign, 1880. Emeline Seeley is mentioned.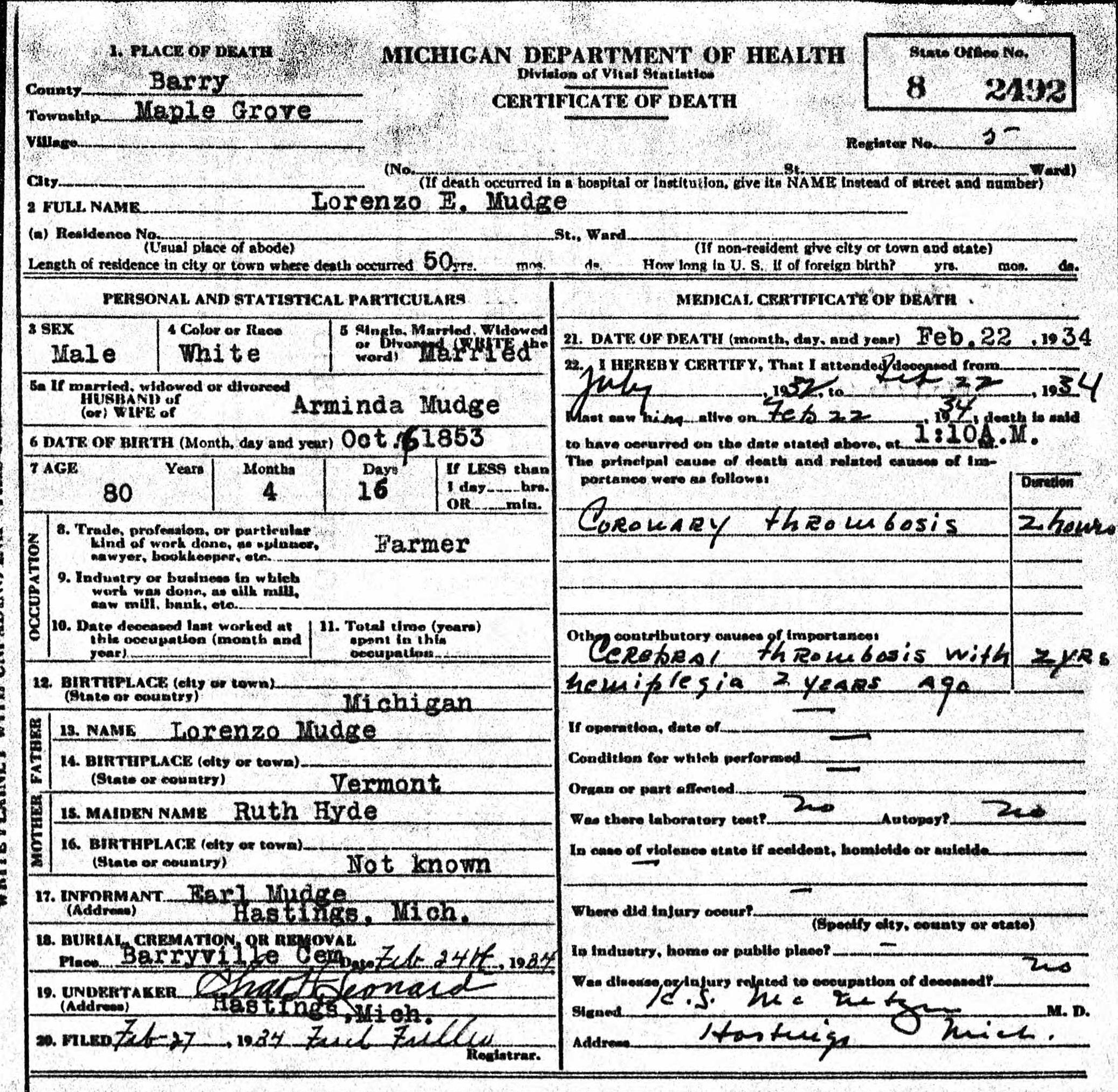 Death certificate for Lorenzo Mudge.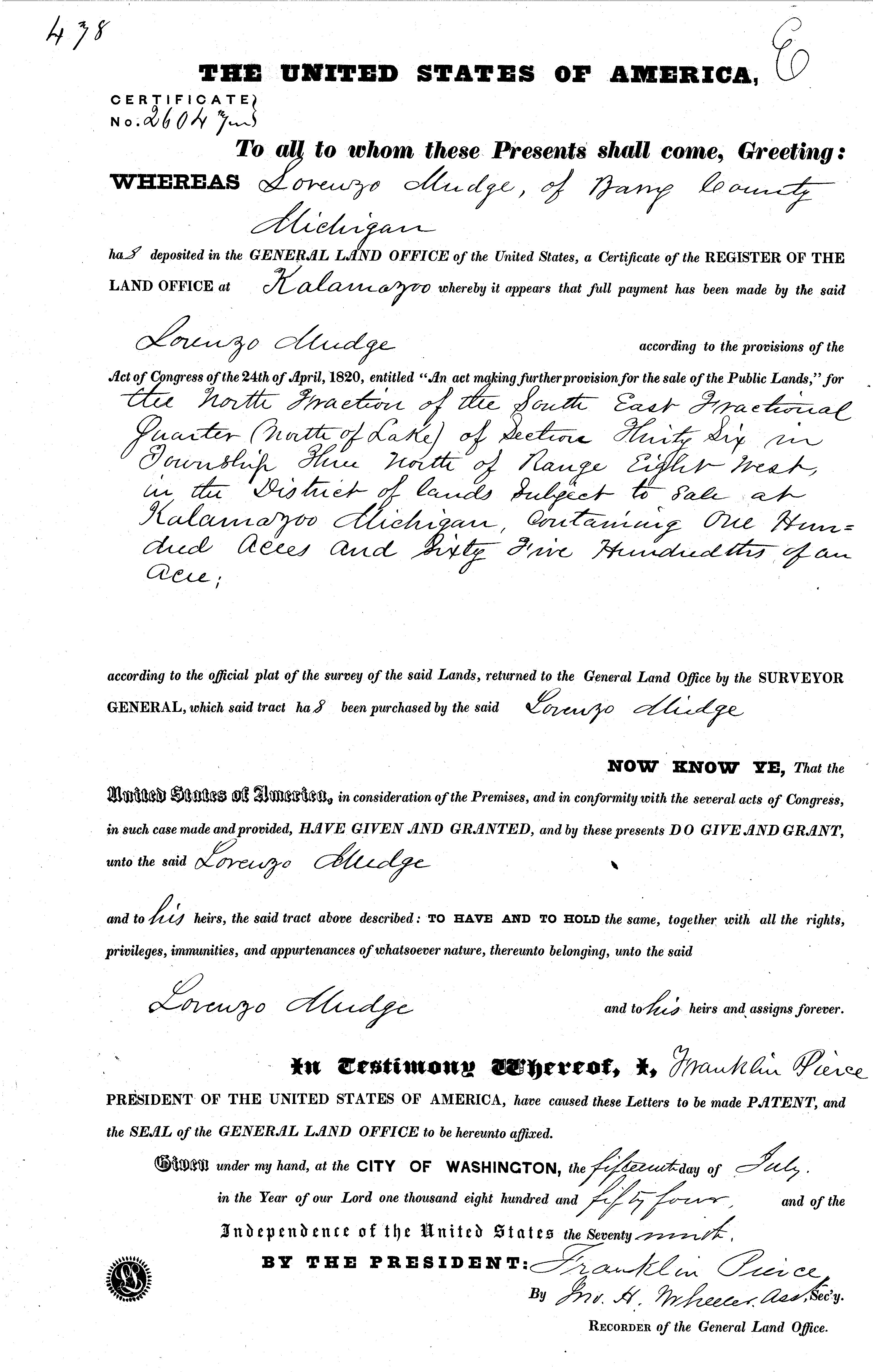 Land Deed, Certificate 26047 for land purchased by Lorenzo Mudge.
For More Documents
Census Records
Library