Lorenzo Edward Mudge
(1853-1934)
Parents

Spouse

---

Arminda Sandige

Children

---

Philena Ruth Mudge

---

Arminda Sandige's children from her first marriage to David Marcus Day were raised by Lorenzo Mudge as his step children.

John Day
George Day
Laura Day
Francis Day
Information about Individual
Lorenzo Edward Mudge was born in Castleton, Michigan on 6 October 1853. The 1870 census lists is occupation as living with his parents and working as a farm laborer.
Between 1873 and 1874 Lorenzo was enrolled in the agricultural program at Michigan Agricultural College; now know as Michigan State University. On the 7 November 1877, he married Rachel J. Day. In 1880, he and his family were living in Maple Grove, Michigan. In 1880, his nephew William B. Walker1, a farmer, was also part of the household. Lorenzo would remain a farmer in Maple Grove until his death in 1934.
On 28 November 1900, Lorenzo married Arminda Clara Sandige who had previously been married to Rachel's brother David Marcus Day.2 On the 1910 census, Arminda and David's children are listed as Lorenzo's step children.
Lorenzo died on 22 February 1934.
1David was the son of Cordelia Mudge Franklin and Oliver Franklin Walker.

2David Marcus Day died on 29 July 1899.
Photo Gallery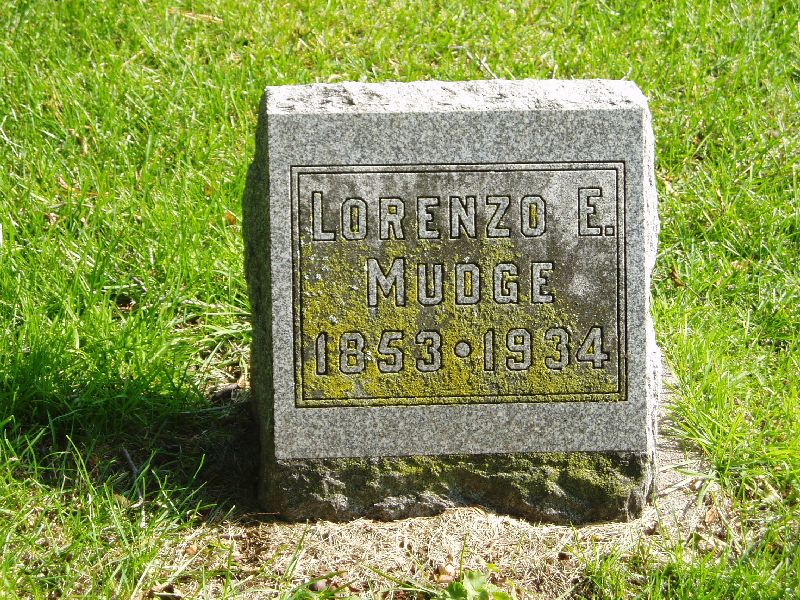 Greavestone for Lorenzo E. Mudge. Photograph uploaded to Find a Grave by Vicki Price Scott.
For More photographs
Documents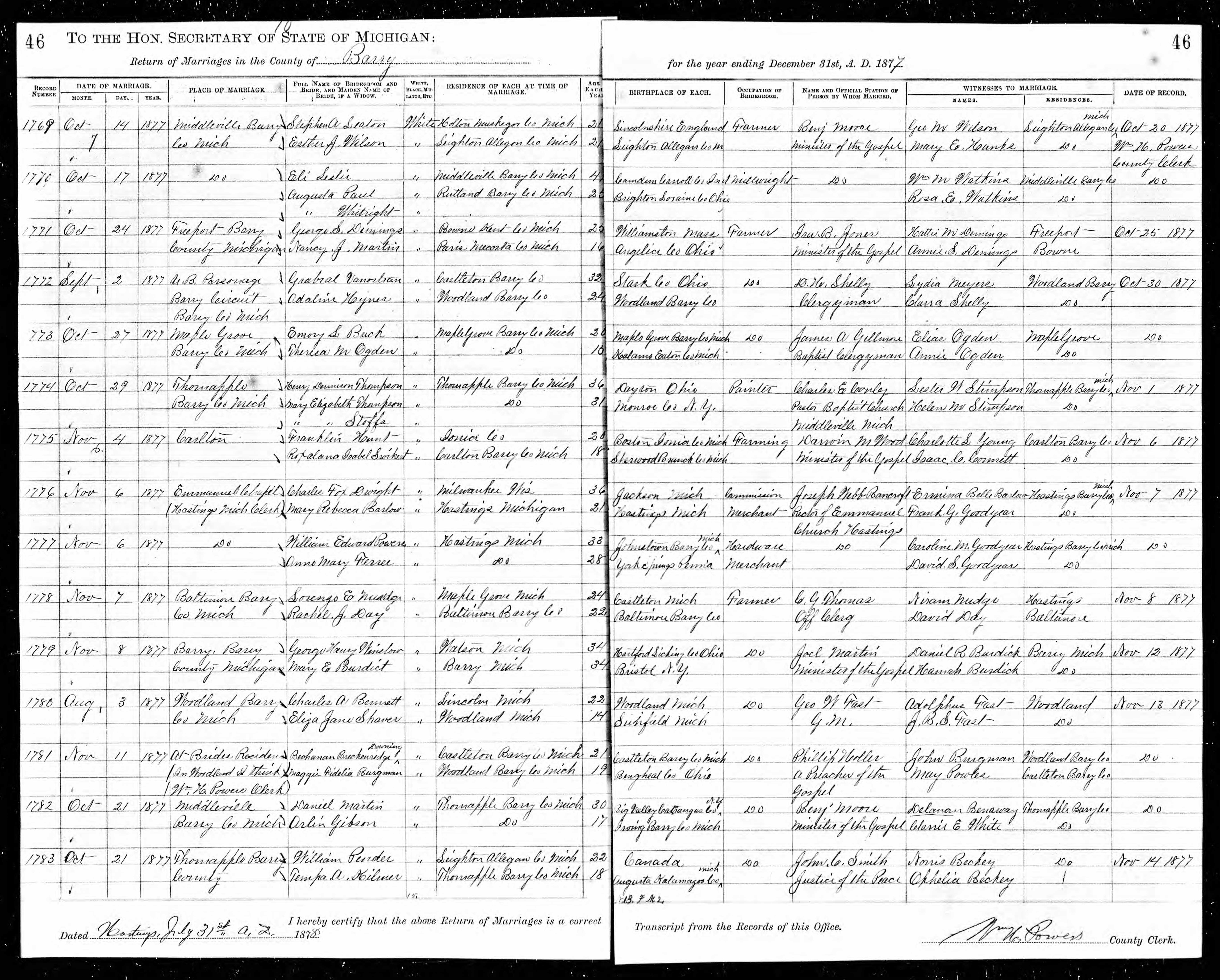 Marriage record for Lorenzo E. Mudge and Rachel J Day.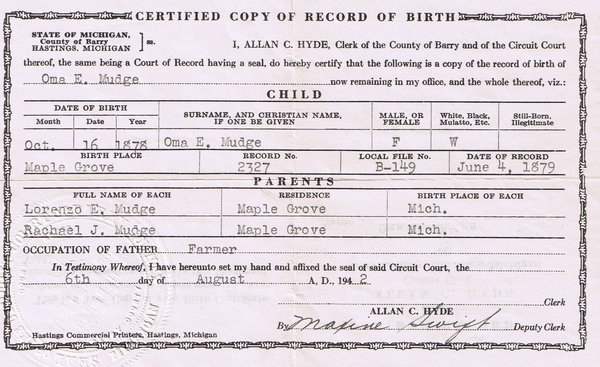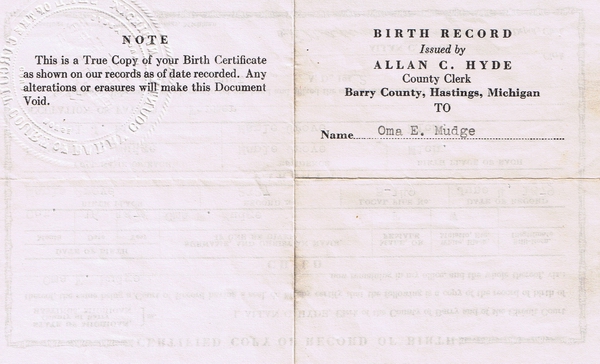 Oma Mudge's birth certificate.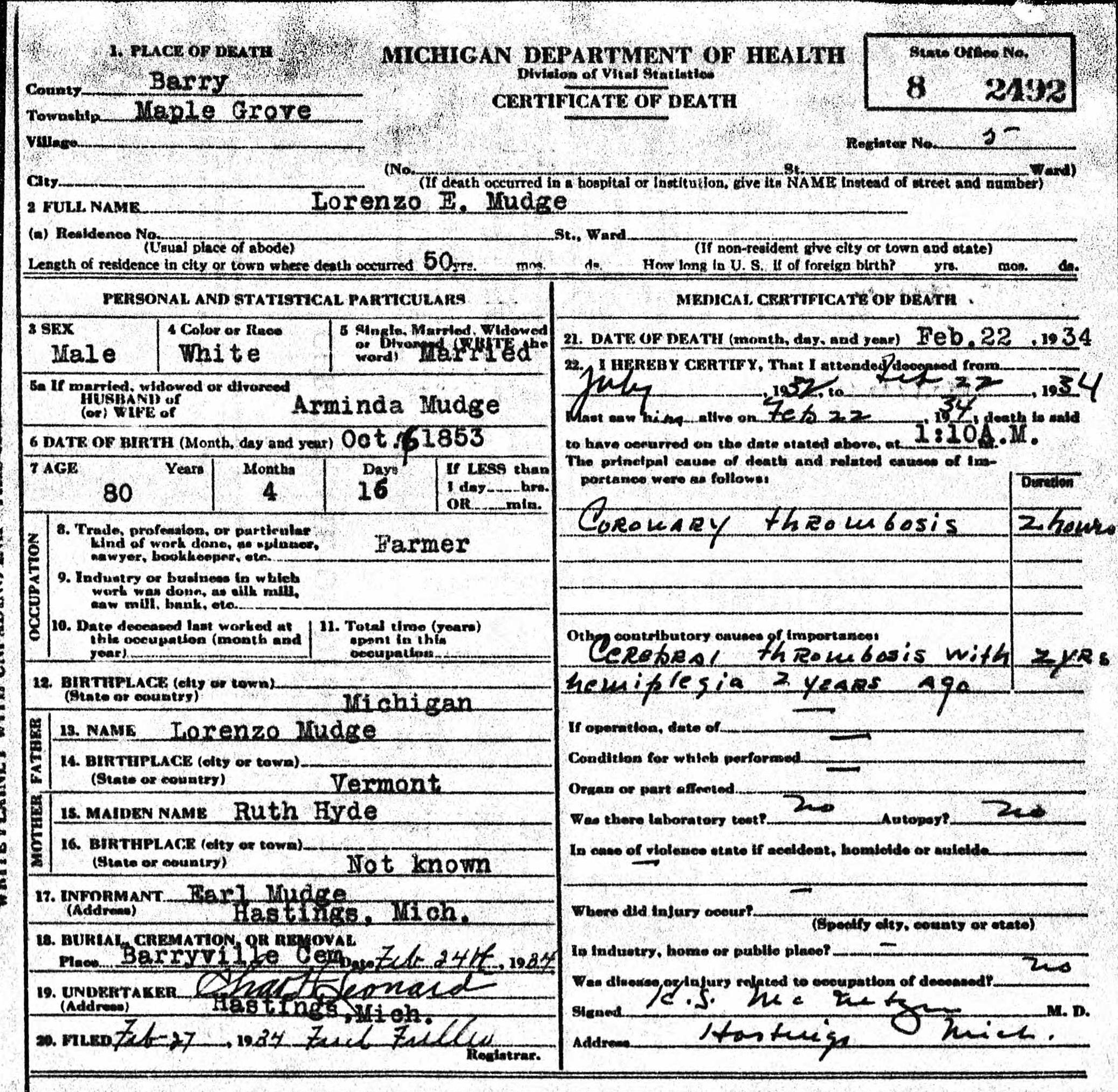 Death certificate for Lorenzo E. Mudge.
For More Documents
Census Records
Library
Mudge, Alfred. Memorials: Being a Genealogical, Biographical, and Historical Account of the Name Mudge in America, from 1638 to 1868. Boston: Alfred Mudge and Son, 1868. p. 244.
Walworth, Reuben H. Hyde Genealogy; or the Descents, the the Female as well as in the Male Lines, from William Hyde, of Norwich, with Their Places of Residence, and Dates of Birth, Marriages, & c. and Other Particulars of Them and Their Families and Ancestry. Vol. 1. Albany, NY: J. Musell, 1864. p. 282.