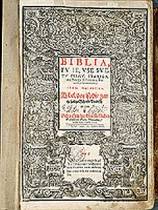 The Bibilija, tu je vse svetu pismu stariga inu noviga testamenta, slovenski tolmac(ena skuzi Jurija Dalmatina, the first Bible in the Slovenian language was published the same year that John Marvin died.
John Marvin
(1552-1584)
John Marvin is the ninth great grandfather of Rachel Wilcox Liberacki.
In 1552, John Marvin was born in Ramsey, Essex, England. He died on 11 September 1584.