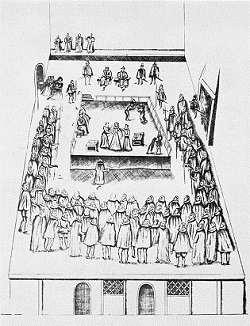 Contemporaneous sketch of Mary Queen of Scots' execution
Alice would have been a teenager on when Mary, Queen of Scots was executed at Fotheringay Castle during the reign of Queen Elizabeth I.
Alice [maiden name] Leffingwell
( - )
Alice is the eighth great grandmother of Rachel Wilcox Liberacki.
The only reference to Alice I can find is in William Richard Cutter's Genealogical and Personal Memoirs Relating to the Families of the State of Massachusetts. However, his research was primarily concerned with her Thomas who emigrated to the New England colonies.