Lydia Goodale
(1740-1820)
Parents

David Goodale
Lydia Putnam

Spouse

Children

Lydia White
Molly White
Judith White
William White
Emma White
Rachel White
John White
Thomas White
Ruth White
David White
Information about Individual
Lydia Goodale1 was born in Salem, Massachusetts on 20 November 1740. On the 3 July 1766, she married William White in Bolton, Massachusetts. Sometime in the early 1770s she removed to Marlborough, New Hampshire after spending about two years in Templeton, Massachusetts.
Life in Marlborough was initially very difficult for the White family. Thomas and Samuel White describe how during the family's first three years in the city it was so cold that corn did not ripen. Because of excessive snow during one winter,
In the spring the melting snow caused so much water in the "Branch" and "Robin Brook" that there was no passing off the hill. The seven families in what now constitutes District No. 7, becoming destitute for food, raised a flag on the hill back of William White's cabin. It attracted the attention of Mr. Phillips, who lived on a neighboring hill. On learning the situation, he and his son carried three bushels of potatoes to a narrow place in the "Branch," throwing them over one by one and relieving their pressing need.
Poverty continued to affect the White family and their neighbors. However, Lydia and her husband were eventually able to purchase a cow. However, "At the first milking, having no bread in the house, the children picked red clover blossoms which they ate with their milk."
Lydia Goodale died in Marlborough on 10 July 1820 and was buried in the town's East Cemetery.
1Some sources such as Frederick W. Bailey in his Massachusetts Marriages and Jordon Dodd in his list of Massachusetts marriages available through Ancestry.com list her name as "Lydia Goodell." Other records use both "Goodale" and "Goodell" in her pedigree.
Photo Gallery
Documents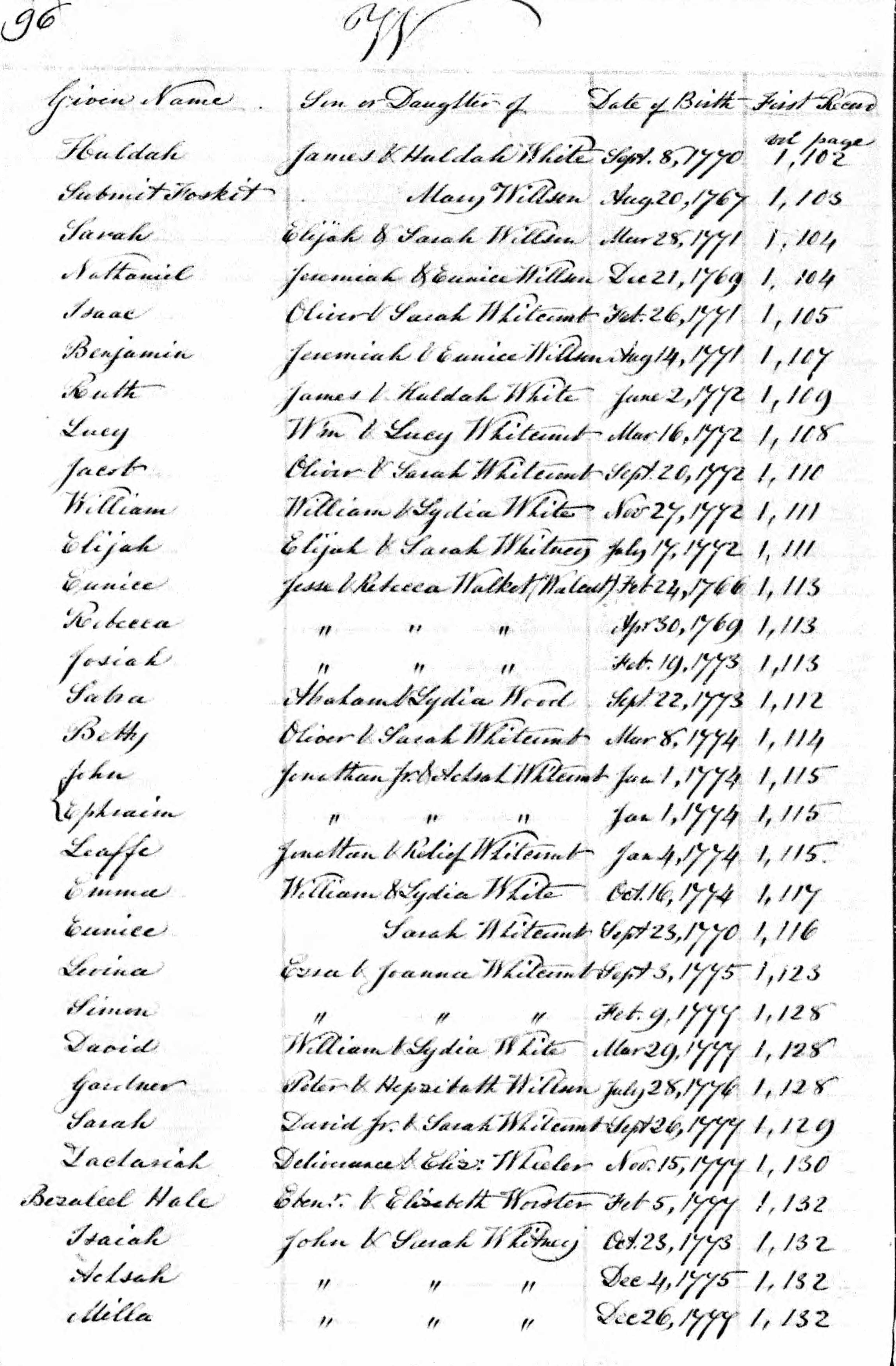 Birth Record for Emma White.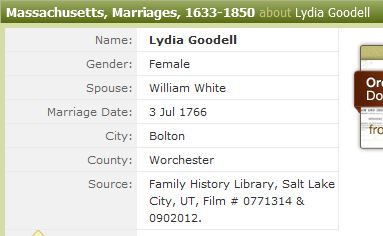 Marriage record for William White and Lydia Goodale.
For More Documents
Library
Bailey, Frederick W, Ed.. Early Massachusetts Marriages Prior to 1800 As Found in the Official Records of Worcester County: First Book. New Haven, CT: Bureau of American Ancestry, 1897. 43.
Bemis, Charles A. History of the Town of Marlborough, Cheshire County, N.H. with the Report of its Centennial Celebration in 1776; also Embracing Genealogies and Sketches of Families From 1764 to 1880. Boston: Geo. H. Ellis, 1881. p. 684.
Chaplin, Ann Theopold. The descendants of Robert Dunbar of Hingham, Massachusetts, 1630-16. Center Barnstead, NH: Snackerty Enterprises, 1992. p. 85.
Mudge, Alfred. Memorials: Being a Genealogical, Biographical, and Historical Account of the Name Mudge in America, from 1638 to 1868.. Boston: Alfred Mudge and Son, 1868. p. 192.
White, Thomas and Samuel White. Ancestral Chronological Record of the William White Family from 1607-8 to 1895. Concord: Republican Press Association, 1895. p. 73.