Ernestine Freidericka Wilhelmina Borchardt
(1865-1945)
Parents

Spouse

Children

Martha Bredendick
Ida Bredendick
Emma Bredendick
Otto H. Bredendick
Ernestine Bredendick
William Bredendick
Arthur A. Bredendick
Alvina Bredendick
Marie Bredendick
Louise Bredendick
Information about Individual
Ernestine Borchardt was born in Germany during 1865. In 1867 she was living in Basepohl, Demmin, Mecklenburg-Vorpommern, Germany. She emigrated to the United States in 18781.
In 1880, Ernestine was living in Wayne, Wisconsin in the home of Frederick and Emma Muehlius. There she worked as a servant/housemaid. The 1884 Appleton, Wisconsin city directory for Neenah, Wisconsin lists her occupation as domestic.
In 1886, Ernestine married William Bredendick. She was naturalized in 1893. By 1905, Ernestine and her husband were living in Birnamwood, Wisconsin. She lived in Birnamwood through 1920. Sometime before 1930, she took up residence with her daughter Ernestine in Wittenberg, Wisconsin. Her husband, son-in-law, and grandson also lived in in the Wittenberg household. In 1940, Ernestine was still living with her daughter and son-in-law.
Ernestine died in Wittenberg on 15 January 1945.
1The 1878 date is found in the 1910 and 1930 censuses. The 1920 census listed her arrival as 1882. However, because we know she was already living in Wisconsin in 1880; the 1882 date cannot be correct.
Photo Gallery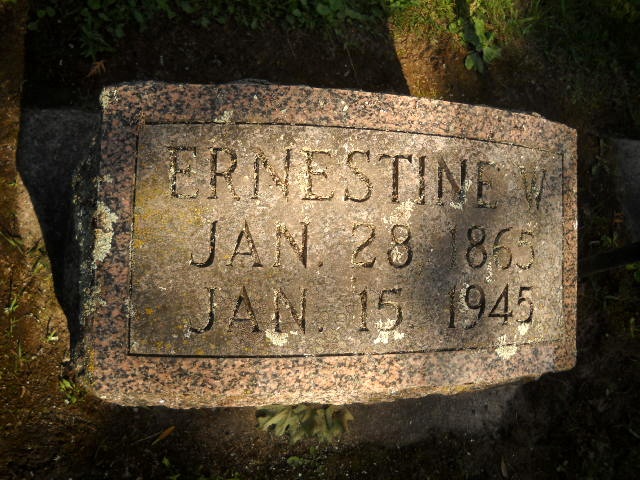 Gravestone for Ernestine Bredendick. Image uploaded to Find a Grave by Cathe Ziereis.
Documents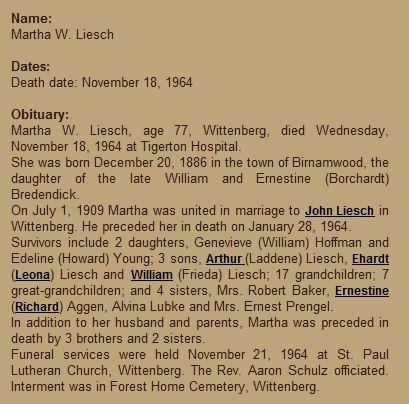 Obituary for Martha W. Bredendick.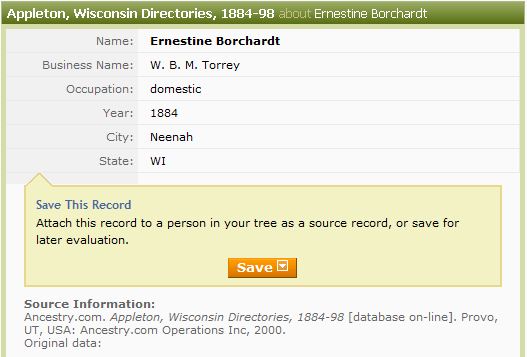 Appleton City Directory information for Ernestine Bredendick.
Census Records